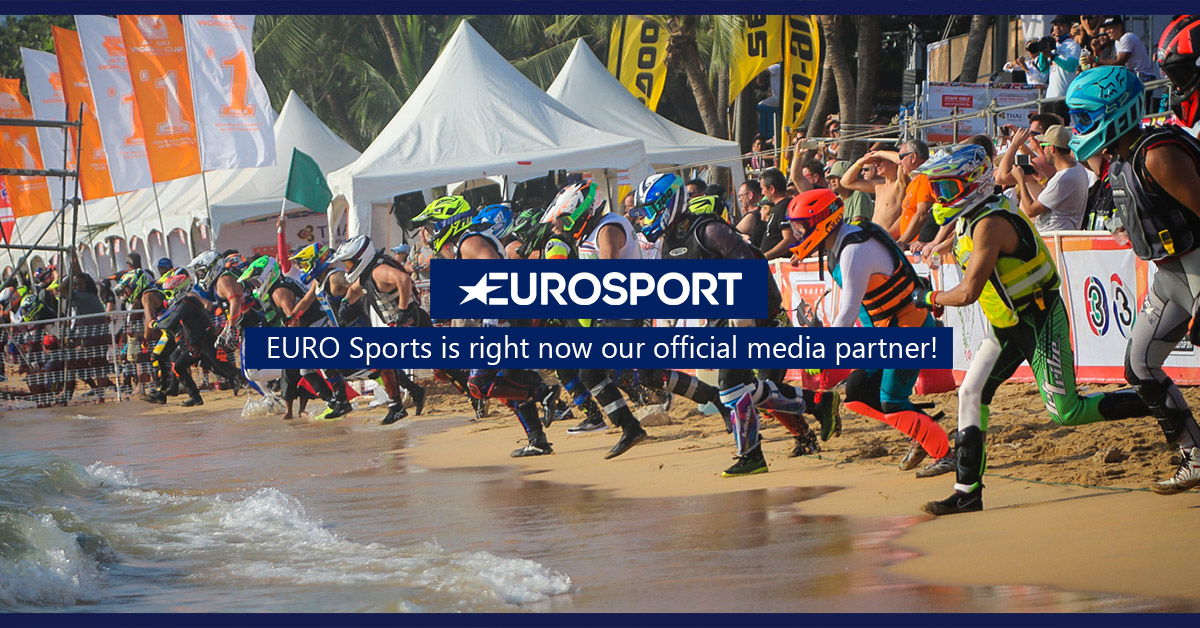 More than 137 million households from 54 countries and viewers speaking more than 20 languages is an incredible number that
EURO Sports will introduce and bring Thai Airways International JET SKI WORLD CUP 2018 to Europe! This is an impressive expansive of our viewer and fan base, and we are doing it on collaboration with One of the biggest sports channels in the world, EURO Sports!

European countries will see the promotional spots of our tournament soon via Euro Sports channel including the official tornament TV program which is the most important thing. In 2018, we plan to broadcast the highlights of the 6 Pro classes including short clips of the champions in each of the Pro-Am, Expert, Amateur and Novice classes.

Here is our latest development to make our sport reach sports fans from all over the world and to spark their interest and fall in love with this fun sport. That is why our broadcast is covering European, Asian, and Oceania zones and some parts of America. Our goal is to reach more than 200 million households or more than 600 million viewers.

Good news for European Fans! These are the countries Euro Sports will bring our event to your homes!



Eurosport is currently available : In 54 countries
1. Albania
2. Andorra
3. Armenia
4. Austria
5. Azerbaijan
6. Belarus
7. Belgium
8. Bosnia Herzegovina
9. Bulgaria
10. Croatia
11. Cyprus
12. Czech Republic
13. Denmark
14. Estonia
15. Finland
16. France
17. Georgia
18. Germany

19. Greece
20. Hungary
21. Iceland
22. Ireland
23. Israel
24. Italy
25. Kazakhstan
26. Kosovo
27. Kyrghistan
28. Latvia
29. Liechtenstein
30. Lithuania
31. Luxembourg
32. Macedonia
33. Malta
34. Moldova
35. Monaco
36. Motenegro

37. Morocco
38. Netherlands
39. Norway
40. Poland
41. Portugal
42. Romania
43. Russia
44. San Marino
45. Serbia
46. Slovakia
47. Slovenia
48. Spain
49. Sweden
50. Switzerland
51. Turkey
52. Ukraine
53. United Kingdom
54. Vatican
Jet Ski World Cup
19 August 2018